Categories
Mailing List
Join Our mailing list for exclusive offers and updates!
Payment Options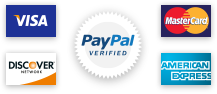 Our Feedback
Hi, I wanted to send you a note to say Thank You for being honest and generous. I am looking forward to the cords as they will help with our Halloween display this year. I hope to do more business with you in the very near future. Thanks much, David
Heavy Duty-Love The Built In Light-Came EARLY-Will Order More-THANK YOU SO MUCH!"
Thank You so much for being so flexible, this will give me a chance to compare the build quality to my requirements.
I really appreciate you helping out with this! It is great to do business with a Family owned business that understands real Customer Service!
Best Regards,
Larry
Hi there, just wanted to say thanks so much for the refund on the combined shipping charges. Appreciate your honesty and sending good karma vibes your way! -John