Categories
Mailing List
Join Our mailing list for exclusive offers and updates!
Payment Options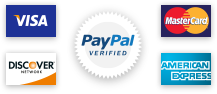 About Us
CD Pro-Power Cords Inc
    With over 45 years of experience in the industry, CD Pro-Power Cords Inc has become the number one source for OEM manufacturers, suppliers and consumers looking for quality, value and service. We manufacture and distribute a wide range of power supply cords designed to meet or exceed industry standards and provide our customers with an affordable solution to all of their cords, plugs and connector needs. If you value quality and service and are looking for a supplier that will work laterally with your company, contact CD Pro-Power Cords Inc today.
The CD Pro-Power Cords Inc Mission
     Headquartered in Edina, MN and serving the needs of OEM manufacturers around the world, CD Pro-Power Cords Inc is a family owned and operated business focused on providing our clients with innovative designs, high quality control and a partnering supplier they can depend on. Our goal is to deliver all three parts of great service- high quality, quick turnaround and low prices. CD Pro-Power Cords Inc offers a wide range of products for our customers including: 
Power Supply Cords
Extension Cords
Plugs and Connectors
Brooder Lights
Trouble Lights
Custom Manufactured, US Made Solutions
Why Choose CD Pro-Power Cords Inc?
     CD Pro-Power Cords Inc partners with several factories in the United States and abroad enabling us to offer a full spectrum of custom-made cord sets along with a wide range of standard consumer products. We value our customers and work hard to ensure their complete satisfaction. Before, during and after every sale, we will be there to answer any questions and to provide them with the best experience possible.